Impact of COVID-19 on the World-Stage
The year 2020 has seen more social, political, and biological turmoil in the span of its six-month life than most decades seen combined. 
Catalysing early on in the year, the SARS-CoV-2 pandemic has swept the globe, devastating not only personal lives but industrial healthcare systems and some of the most robust economies in the world.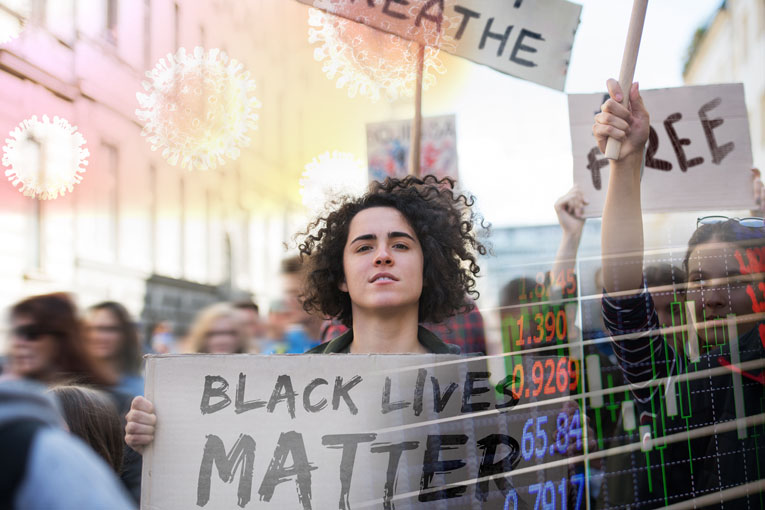 As this novel coronavirus has spread, countries around the globe have responded with varying levels of lockdowns, quarantines, and curfews. The efforts to minimise human contact and slowing the spread of this deadly disease resulted in over 188 countries placing legal orders against congregating in groups larger than 6, or in some cases, even 2.
Beginning in mid-March, the world seemed to come to a standstill. Corporations closed, small businesses struggled to go online, seeing people's faces in person turned rapidly into seeing people's faces on a screen via video conferencing platforms such as Zoom or Skype. 
By law, in-person work was limited to only that which was deemed "essential," such as healthcare and postal workers. The phrase "social distancing" mandated everyone stay a minimum of 6 feet, or 2 meters, apart. It seemed, within the span of a few weeks, the entire world, including major economic powerhouses such as the UK and USA, went into a complete lockdown. 
Despite the unthinkable near-apocalyptic circumstances that global societies found themselves in, the routine was establishing. A new normal was developing. Working from home and furlough were on everybody's lips.
Black Lives Matter
Then, on the 25th of May, 2020, the world erupted.
The eruption occurred when George Floyd, a Black man, died while being forcibly restrained by a police officer in Minneapolis, Minnesota. The whole event was caught on camera and was circulated quickly through news outlets and social media platforms.
This was the fourth high profile death of a Black person at the hands of law enforcement in the last three months. Many in the United States decided, enough. The time had come to take a stand.
Almost overnight, a campaign called 'Black Lives Matter' which had been founded in 2013, following the acquittal of a White man who unjustly murdered a Black teenage boy sprung to action. 
The Black Lives Matter Foundation originated in the United States but has since become a global entity with offices in Europe, Asia, and South America. Largescale protests, beginning in the United States, gained traction, fighting against and bringing to light the unjust treatment of Blacks and the systemic racial inequality that exists in our modern society. 
The movement spread like wildfire with people demonstrating in all 50 states within the following days, and in countries including Belgium, France, the Netherlands, the UK, Spain, and countless others within a week.
Hundreds of thousands of people, young and old, mobilised in the streets to stand in solidarity with the Black community, sharing the common goal of showing their belief in the need to eliminate racial inequality and police brutality through action.
Moreover, all this is to say – the world seemed to forget about the ongoing pandemic.
Suddenly, people who were afraid to stand too close to another in line at the shops were congregating in large swaths to protest. Over the last several weeks, the legality of these protests has been called into question. 
The Right to Protest Law
At the point where these protests began, England had the loosest rules about lockdown in the UK, with no restrictions imposed on going outside. Specific regulations, however, did restrict public gatherings to no more than six people close to one another at any given time. A "gathering" is defined as a meeting involving "social interaction with another to undertake any activity". 
At its core, a protest is just this. So at face value, protesting for the Black Lives Matter movement in the UK has always been considered an illegal activity.
So why have they persisted? As with many things, the answer is that legality is more nuanced than it seems. Before the protests, the police had been trying to encourage people to follow the law. They broke up gatherings of more than six people and began to hand out on-the-spot tickets of a minimum of 100 pounds to anyone who did not follow health regulations.
However, the UK has always felt strongly about its Right to Protest law, in which citizens are allowed to have a voice and to stand for their beliefs despite an incongruence with legal authorities. 
Although a powerful and vital human right, it is understandably complicated by the ongoing global crisis. The European Convention on Human Rights complicates this further, stating that authoritative bodies must respect both the peoples' right to assemble and to express one's views peacefully, but that the government or public body can interfere if there is a proper legal reason to do so.
A Balancing Act!
The right to protest amid coronavirus concerns has shifted from a legal issue to a humanitarian one. Many officers in the UK, although not openly encouraging the protests, have shown their silent support by not actively breaking up the peaceful demonstrations occurring around them. 
In the past weeks, the balancing act of enforcing coronavirus preventative measures and understanding the severity and power of the Black Lives Matter protests has become a careful seesaw, and law enforcements place it in remains unclear. Some of the organisers of the Black Lives Matter demonstration have publicly argued that they are justified in asking people to protest, as "racism is a disease" and a "public health emergency of its own."
Takeaway
What it boils down to is the fact that across the globe, in the UK and abroad, protesters believe that they have to come out and stand for what they know to be right. To use their positions to further a message that society must become a more just, equal, and fair place.
Protesting in the UK is, by the book, not legal during coronavirus times if you consider the viral pandemic to be a more severe crisis than that of systemic racism. That said, law enforcement seems to understand the gravity of the situation and has been lenient on punitive measures taken at these protests.
Do you feel that your civil and human rights have been abused?  A human rights solicitor should be able to tell you quickly whether they can help you with your case and if they can represent you. Look no further! Visit Qredible.co.uk now!
Related article: Stopped by the police? Know your rights!
Do you need a Lawyer?
Find Solicitors, Lawyers and Law Firms in the UK with Qredible
Find a Lawyer near me