Gone are the days when you just had a television in your living room. Now we also own a smartphone, a tablet, and a laptop. It's the birth of a second screen; which is ever-present in your lives.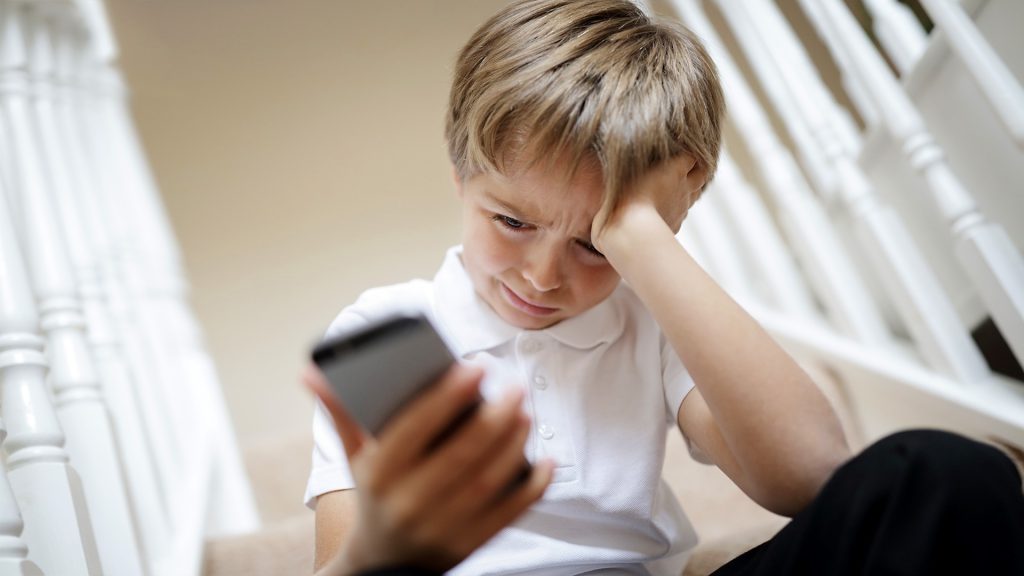 How has online exacerbated cyberbullying?
The marvel called social media arrived with Facebook (2004), Twitter (2006), Instagram (2010) and Snapchat (2011). With 3.8 billion active users worldwide – out of which 3.42 billion are mobile social media users, people spending time online has become not only a crucial part of the modern lifestyle but a useful marketing channel for businesses of all sizes. The average UK family consumes more than 200GB data monthly – an ever-increasing number.
Nowadays, kids are astounded to know that phones were only used for conversations a few years ago (no Facetime, games or Apps). They are even astonished to find out that we didn't have cell phones with us 30 years ago. Barely anyone uses a coin-operated payphone these days since nearly everyone is walking around with a mobile phone in the palm of their hand.
What is cyberbullying?
People of all ages are more exposed to cyberbullying. Cyberbullying is bullying that takes place over digital devices through emails, SMS, forums, gaming or online social media where people can view, participate in or share content. What may appear to be a minor incident could have dire long-term consequences for the victim and should be taken seriously.
Cyberbullying comes in different forms such as threatening behaviour, abusive comments, grooming, inappropriate images, peer pressure, psychological abuse, hate speech, threats of violence, social rejection, denigration or harassment. Mobile devices have now become the new schoolyard for bullies.
Social Media, a devil in disguise?
While social media connects people from anywhere to learn and share their thoughts regardless of location, it has created a lot of confusion and discomfort in society. Children are the biggest victims as it has become quite easy for anyone to get bullied on the internet (social media) as it's tough for the abuser getting traced.
Mobile devices have only made things worse with anonymous messages being sent using Bluetooth technology and the distribution of video footage of physical attacks like 'happy slapping". Others use a virtual private network (VPN) to hide their identity and location.
Prevention is better than cure!
If you or someone you know is being cyberbullied, it's best to cut off all lines of communication as it only adds fuel to the fire. Get offline and change your contact information. It is essential to let your child know that cyberbullying is unacceptable. Make sure your kids know you won't judge them, and you want them to be safe; otherwise, they could feel guilty or ashamed to bring this up.
Effects of cyberbullying
For many, cyberbullying affects their everyday lives and is a constant source of distress and worry as it can make anyone feel overwhelmed, embarrassed and alone, resulting in tragic events like self-harm and even suicide. It is an ongoing and relentless issue with mobile technology being so freely available.
Recent study by InjuryClaimCoach states:
89% of people were bullied as children
57% of people said their childhood bullying started in elementary school
28% of people who told their parents about childhood said their parents were successful at stopping the bullying
43% of people bullied as children have been diagnosed with a mental health condition
44% cite childhood bullying as the cause of their condition
What should you do as a responsible adult?
Give your kids examples of cyberbullying to raise their awareness; pictures might be posted without permission, threatening messages or posting comments on forums. If your child has been a victim during school hours, it could be dealt with within the school. Teachers will have strategies and anti-bullying policy in place to deal with this problem effectively.
All incidents of cyberbullying should be recorded to facilitate an investigation. Keep a record of all the communications and report all abuse to the relevant social media networks by clicking the "report abuse" button. Do not forget to take screenshots. Get the police involved if you are getting threatening messages; which could even be considered as harassment.
What does the law say about Cyberbullying?
Cyberbullying itself is not a crime as it is not covered by a specific law just yet in the UK but some types of cyberbullying, over a period of time, are illegal and should be reported to the police. Several laws can be applied to cases like Harassment Act 1997, Communications Act 2003, Defamation Act 2013; to name a few.
Find a criminal lawyer now!
If your child has been the victim of cyberbullying, you might want to seek legal advice. Contact a criminal lawyer to advise on the actions that can be taken depending on who the perpetrator is. Make sure to keep a record of all the evidence to support your case in court.
Find a lawyer now on www.qredible.co.uk

Source: Digital Information World
Do you need a Lawyer?
Find Solicitors, Lawyers and Law Firms in the UK with Qredible
Find a Lawyer near me