After 47 years of membership, The UK has officially left the European Union. This happened at the late hours of January 31, 2020, after a June 2016 referendum.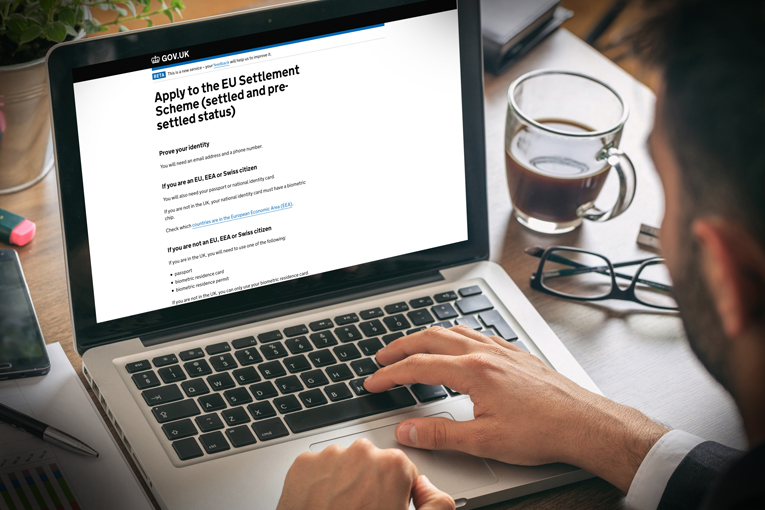 The EU, EEA, and Swiss citizens living in the United Kingdom have the right to live and work in the UK until June 30, 2021. After this date, they have to apply for the EU Settlement Scheme. Upon a successful application, you will get "the settled status or pre-settled status."
Getting the status makes you continue to be eligible for:
Public services, such as health and schools

Available funds and pensions, according to the same rules as now

British citizenship, if you meet the requirements.
This post will provide you with all the necessary information to apply for the Settled Status to live in the United Kingdom after completing the Brexit process.
What is the Settled Status?
The Settled Status is equivalent to a residence permit to be able to live legally in the country. The status will give EU citizens the same rights as British citizens on everything, including healthcare, pensions, education, and benefits.
EU citizens living in the UK have been applying for the EU settled status since January 21, 2019, and this will continue till June 30, 2021.
Anyone who fails to apply before the said date will be considered as living illegally in the country.
Request for EU settlement scheme
Before you apply for the EU settlement scheme, there are certain things you should know.
Who should apply?
Citizens of the European Union or their family members must apply for the EU settlement scheme if they wish to stay in the United Kingdom after June 30, 2021. This set of people include:
People born in the UK but not British citizens.

People married to a British citizen from another EU country, in this case, Spain. (If you are from outside the EU, you must prove the relationship with an EU citizen).
If you meet the criteria, you will be able to apply now.
Eligibility
To be eligible for the established status, you will need to meet the following requirements:
Be an EU citizen or family member of an EU citizen.

You must have been living in the UK continuously for five years – one termed 'continuous residence.'

You must have started living in the UK before December 31, 2020.
In most cases, eligibility for Settled Status will be based on whether you have lived in the UK for five years. If you do not meet this requirement, you can be granted pre-settled status, which will allow you to stay in the UK for another five years. You could then apply for resident status after those five years.
If you have a permanent or indefinite residence permit, you can stay, but applying for the new state's visa might offer you better rights.
Permanent or Indefinite Permit
The process is different for people having a permanent or indefinite residence permit.
If you have a valid UK permanent residence document, then you will need one of the following:
A certificate in your blue "residence documentation" brochure.

A certificate inside your passport

A biometric residence card confirming permanent residence (only if you are from outside the EU)
How and when to apply?
To have this "special card," you must present some documents to prove that you live in the country to stay.
You will also have to fill out a form. The application form will be online, but you can get help by phone or in-person if you need it.
When you apply, you will need the following:
Proof of Identity (passport or DNI). You will have to scan and send it by mail. You should also add a digital photograph of your face.

Proof of UK residency (unless you have a valid permanent residence document or a valid indefinite license to stay in the country). You may need to allow the HMRC to review the status of your bank accounts, invoices, or the P60.

Evidence of Relationship with an EU family member living in the UK if they are from outside the EU.
The application process is different if you are under 21 years of age or stop working (due to illness, accident, retirement) or start working in another EU country.
Cost of Application 
If you apply before the official opening, the price is as follows:
£ 65 if you are 16 or above

£ 32.50 if you are under 16 years old
It will be free if:
You already have a valid indefinite licence to stay or a valid permanent residence document

You are requesting the change from pre-settled status to settled status.
This money will be refunded later, because it was said that when requesting it from the indicated date (March 30, 2019), no economic charge will be made, so if you request it after the date, you will not have to pay.
What happens after applying for the Settlement Scheme?
You will get a proof of your status through an online service. You can only get a physical document if you are from outside the EU, or you do not have a biometric green card yet.
In case there is an error in your application, the Home office will contact you before making the final decision to make the necessary corrections.
If your application is unsuccessful, you may be able to request an administrative review of the decision. You can also reapply as many times as you want before June 30, 2021.
How long does it take to apply, and how do I know the result?
Generally, it will take about 30 minutes to complete this application. However, you do not have to complete the application at once, you can continue the application started, and you will receive an email when a decision has been made.
Further Questions
This might look like a whole lot of information to take in. So, if you need stress-free guidance in the UK immigration arrangements or any questions about your application for the EU settlement scheme, feel free to contact one of our immigration solicitors on Qredible.co.uk, and they will be glad to help you.
Do you need a Lawyer?
Find Solicitors, Lawyers and Law Firms in the UK with Qredible
Find a Lawyer near me