Naturalising as a British citizen is a big decision and a very costly process. If your application is unsuccessful, you will not receive a refund for the outlays involved. So you must get it right the first time!
Read on for everything you need to know about applying for British naturalisation and how to evidence your immigration case.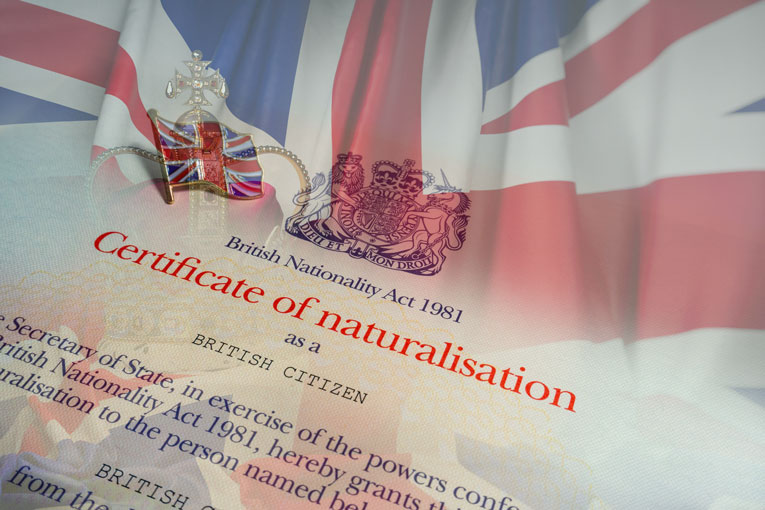 What are the criteria to apply for British naturalisation?
You must meet specific strict criteria before applying for naturalisation. The requirements are as follows:
You must be 18 years of age or over

You must have lived in the UK legally for five years, or three years if you are married to a British national

You must be able to communicate in English to a set level

You must meet certain character conditions. This includes not having a recent criminal record

You must understand the process and the legal implications of becoming a British citizen

You must have a reasonable knowledge and understanding of society and lifestyle within the UK

You must intend to continue living in the UK following naturalisation.
How do I apply for British citizenship by naturalisation?
There are two ways to apply. You can either make an application yourself or use the services of a professional representative.
It costs £1,330 to apply, along with a fee of £19.20 for your biometric information permit. If you hire professional assistance, then you should check their fee structure. You may also need to pay additional disbursements for their services.
To apply online
You can apply online here. You will also need to make an appointment to submit your biometric information, in person, to the UK Visa and Citizenship Application Service (UKVCAS).
You do not need to post your documents anywhere. You can either:
Upload them to the online portal

Have them scanned during your UKVCAS appointment
To apply by post
Applying by post is a much longer process, and you should avoid this method if you need your documents for other time-specific applications. The form is available online to print. Alternatively, you can request form AN in an accessible printed format.
Apply through a representative
You can use an agent or private company to help with your application and give you advice.
You should check whether your representative is registered with the official immigration body: The Office of the Immigration Services Commissioner (OISC).
You can use some legal representatives that are not enrolled with the OISC. These include solicitors registered by any of the following:
The General Council of the Bar

The Law Society of England and Wales

The Chartered Institute of Legal Executives

The Faculty of Advocates

The Law Society of Scotland

The General Council of the Bar of Northern Ireland

The Law Society of Northern Ireland
How long does an application take?
You will usually receive a decision within six months. However, more complex applications can take longer.
If your circumstances change during the time your application is pending, then you must contact the UK Visas and Immigration Office. This includes if you move to a new house, get married or are arrested.
If your application is accepted, then you will need to attend a citizenship ceremony.
How do I apply for my children?
You must apply separately for children. They cannot be included on your own application.
It costs £1,012 for each child. You will also need to pay £80 for the citizenship ceremony if the child turns 18 during the process.
You do not need to apply for your child if:
They were born in the UK

They were born after you were granted indefinite leave to remain
What about my current Biometric Residency Permit (BRP)?
As soon as you receive your certificate of citizenship, you must send your BRP back to the Home Office. This needs to be done strictly within five working days of receiving your certificate.
You need to cut your permit into four pieces and post it in a windowless envelope. Include a note, with your name and date of birth, advising that you are returning the BRP as you have been naturalised as a citizen.
You will be fined £1,000 if you do not return your permit within 5 working days.
Do I need a British passport?
Once you have received your certificate of citizenship, you can apply for a British passport. Once you have received it, you must use it for travelling in and out of the UK.
You do not have to apply for a British passport; you can request a certificate of entitlement instead.
However, you cannot use your BRP or Certificate of British Citizenship for travel.
What is the citizenship ceremony?
You must attend a citizenship ceremony if:
You are over 18 years old

Your application for British citizenship has been successful
Your local council will organise the ceremony. They are ordinarily done in groups, but you can request a private ceremony if you wish. You can usually take two guests.
A group ceremony will cost £80. A private service will cost more, and you should check with your council organiser.
During the event, you will be asked to make an oath of allegiance and a pledge. If you do not wish to swear by God, then you can make an affirmation.
The pronouncement is a promise to abide by the laws, rights, and freedoms of the UK. Following the ceremony, you will receive your certificate of British citizenship.
Key Takeaway
Applying for British naturalisation is no easy feat. It is expensive, especially if you are applying for your children, and there is no guarantee your application will be successful.
You can enhance your prospects of success with the help and guidance of a legal professional. Allowing a solicitor to assist you with your application means less work and stress for you and a better chance of staying in the UK.
Pick up the phone to one of our immigration solicitors today.
Do you need a Lawyer?
Find Solicitors, Lawyers and Law Firms in the UK with Qredible
Find a Lawyer near me