Research shows that over 16 million people worldwide experience mental health issues every year. With this pandemic, we can only anticipate that this number is set to skyrocket in 2020.
It is no great secret that we are all going through a difficult and challenging time. The turbulence created by the COVID-19 crisis means that we are being tested both physically and mentally.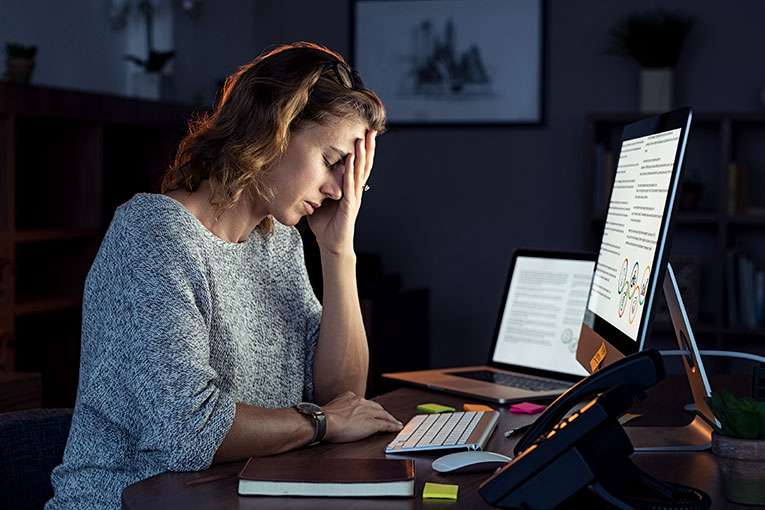 Some employees are concerned about being forced back to the office even though they can easily continue working from home. Others are worried about tensions in their relationship, being asked to work while on Furlough or even being forced to take annual/unpaid leave.
Mental Health in the Workplace
Surprisingly, some business leaders may think that an employee's mental health is none of their concern. However, helping staff to improve their mental wellbeing could be one of the most critical steps a company can take.
The way an employee thinks, feels and behaves impacts on everything. This includes their productivity, ability to communicate and even stay safe at work.
The World Health Organisation cites the top risks to employee mental health are as follows:
Insufficient health and safety policies
Poor communication
Inadequate management
Inability to participate or feel involved in the decision-making
Low-level support for employees
The inflexibility of working hours
Unclear objectives
Mental Health Awareness Week 2020
Mental Health Awareness Week 2020 runs from May 18th-May 24th, and the theme this year is 'kindness'.
The notion of being kind may sound easy. However, social distancing and not being in the normal office environment has changed everything. It is now forcing us to think more creatively about how we can show kindness – not only to others but to ourselves.
We need to help those around us, especially those who are feeling lonely, isolated, or anxious.
Read on for ideas on how you can support mental health in the workplace and beyond.
COVID-19 – Remote Working Wellness
With much of the UK now still working from home, it is possible that care for employee mental health may have fallen by the wayside.
A fundamental way to help those with mental health issues is to create a nourishing working environment.
It is essential – now more than ever – to ensure that your staff or colleagues have a healthy work environment. Just because we are not working in the same office, does not mean that our responsibilities for each other's welfare have ended.
By prioritising wellness and mental health, you are cultivating an environment that encourages staff to perform at their best.
Here are the top 5 ways you can incorporate mental wellness into your working culture:
1. Smash Out Stigma
Whether inside or outside of work, there should be no shame in talking about mental health or emotional problems.
All organisations should instil a culture of wellness and health into everyday working practice. Providing support should be high on the agenda.
Raise the topic, show concern, and encouragement those who are in need.
2. Keep Talking!
There is no denying that communication is critical. However, with the changes in our working setup, its understandable that we may not be keeping in touch with others as we should.
When businesses are going through changes – which they all are at present – it can heighten anxiety and leave communication taking a backseat.
Always keep communicating! Even if you feel there is nothing valuable to say. Doing this will help instil trust and respect from others and encourage employees to keep communicating with one another.
Ensuring there is an open-door policy, even during this Lockdown, is essential to promoting mental wellness.
However, remember that it is best not to push anyone to talk about their wellbeing if they are uncomfortable or not ready. Nevertheless, demonstrate that the support is there when they need it.
3. Weekday Wellness
Working from home can upturn the usual routine. We must all try to maintain a mentally and physically healthy schedule where possible.
Exercise, healthy eating, regular breaks, and rest are a few simple ways in which to boost mental health.
While working from home, make sure you separate your work and personal life as much as possible. Stick to your key working hours and have your usual breaks.
For managers, it is vital to communicate with your employees to ensure that they develop good working-from-home habits and lead by example.
4. Management Influence
Being thrust into a new working environment has probably tested even the most resilient of people.
Managers need to set a standard and manage these times of change. This can involve managing workloads, work variety, work relationships, participation, communication, a sense of purpose and stress management.
Managers can have a significant influence on their employee wellbeing and reduce the negative impact that change can have on some. As well as safeguarding mental health, it can also boost employee engagement.
5. Innovative Ideas
A great way to promote employee awareness to wellbeing is to encourage initiatives and suggestions. This is especially important now due to remote working. Bright ideas can foster a sense of community, fun and oneness between colleagues.
Think about:
Recognition schemes – inspiring employees to compliment each other for good work
Find ways to foster a healthy work/life balance – maybe consider a staff virtual lunch-break or birthday party via Zoom.
Promote healthy eating – find fun ways to share recipes or start a food club
It Is OK Not To Be OK
Despite continued improvements, it will likely be a while before mental illness is treated the same way that physical illness is. However, until then, we must keep making these small strides forward and doing our bit.
Mental Health Awareness Week is here to remind us that everyone struggles to stay mentally healthy sometimes, and that is OK.
Unfortunately, not everyone receives the help, care, or kindness they deserve.
If you are worried about the changes within your workplace, the wellness culture in your organisation or you want more advice on how best to support employees through this time, then reach out and speak to one of our employment experts.
Related article: Top tips for lawyers working from home!
Do you need a Lawyer?
Find Solicitors, Lawyers and Law Firms in the UK with Qredible
Find a Lawyer near me