Here at Qredible.co.uk, we understand that unexpected events can occur in our lives that suddenly require us to seek the legal advice of a solicitor. You might need a lawyer to defend your rights or protect yourself in a variety of areas such as employment law, divorce, conveyancing or even immigration situations.
That's precisely why we have created a platform where individuals can quickly and easily find the specialist lawyer they need to navigate tricky legal matters.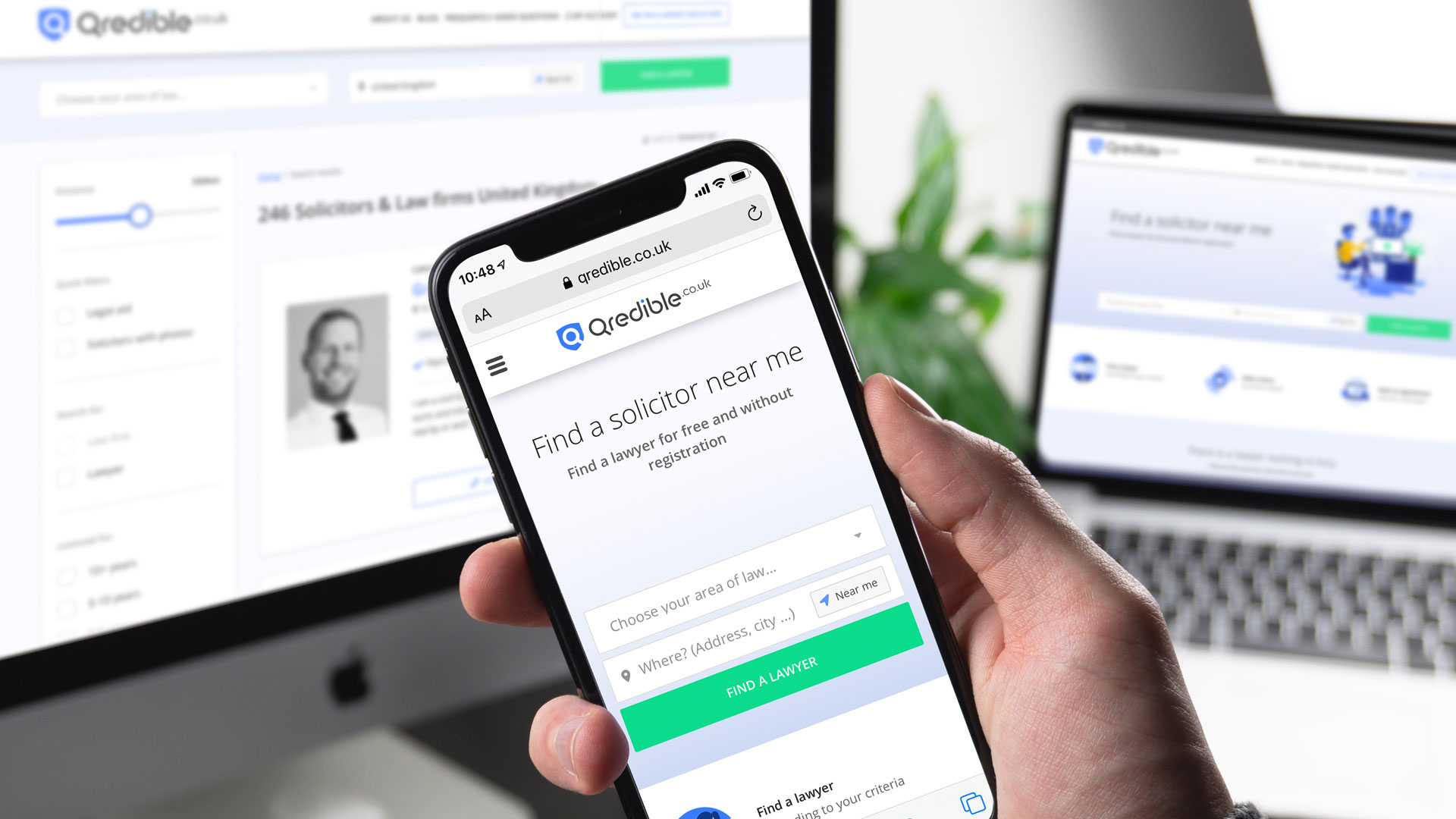 Do you need a lawyer? Make an informed decision. Choose the right lawyer for your legal needs.
Whether you need to discuss
You can use our platform to search and find the right lawyer for you.
You can search for your lawyer online
Where do you start looking for a lawyer you can trust? Most people turn to relatives or friends for advice and recommendations. However, it's fair to say that you may not get the best advice from your social circle. As much as the people who care about you want to help, very few are in a position to recommend the legal expert that's right for you you need.
If, for example, you are looking for an immigration lawyer to help you apply for British citizenship amid the Brexit uncertainty, it can be tricky to find someone who can direct you to the right legal expert. That's where our Qredible platform can make a difference as it lets you search for an expert in the relevant area of law.
You can find a lawyer you can trust
Finding a lawyer you trust can be hard work when you don't know where to start. We understand that the world of solicitors can be confusing; that's why we make sure our platform gives you all the information you need in one place. You can check the membership status of every lawyer on the list. Their fees are prominently displayed, which means that you don't get any nasty surprises further along the line.
More importantly, you can find someone who fits your criteria in terms of price and certifications. If you need the best employment lawyer you can afford, you can review not only their prices but also their professional indemnity insurance (PII), years of experience and regulatory body. Not all solicitors are required to hold PI Insurance, and so the availability of this information on the platform is essential as it helps you to make an informed decision when selecting your solicitor.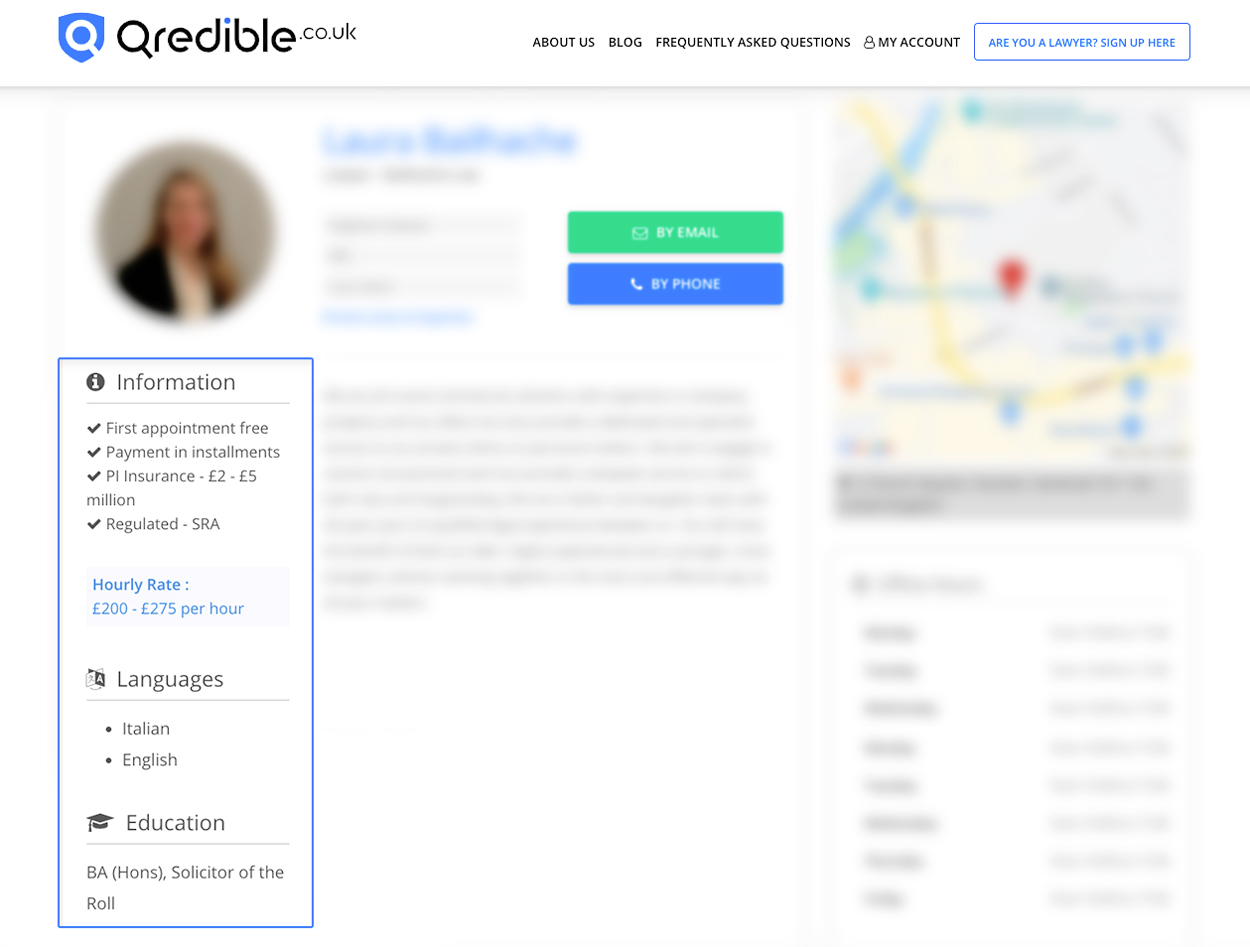 You choose the location if it matters
Our search function lets you find local lawyers, which means that you can work with a lawyer near you. This can be especially helpful if you decide to plan face-to-face appointments more efficiently. However, we appreciate that the location may not be relevant for your search.
Many lawyers are happy to keep in touch via digital communication such as email or Skype video, or even a call. The Qredible platform enables you to narrow down your search by location or to leave it open to find the most experienced lawyer in the relevant field. You can sort lawyers either by distance compared to your location or by years of experience.
You are not a lead; you're free to choose YOUR lawyer
We know that some of our competitors aggregate leads to sell to lawyers. However, at Qredible, our mission is to help you find a lawyer to suit your needs. As a result, your data is are not sold to lawyers as leads. We respect your privacy and leave it to you to decide which lawyer you trust with your case.
We put you in charge of reaching out to the legal experts you choose. We believe that things are stressful enough when you need legal assistance such as a divorce lawyer to discuss a settlement, for instance. You can browse our list of lawyers and get in touch with the one(s) you feel are suitable.
You can find insightful articles on our platform
Legal problems can be confusing when you are not familiar with the law. Here, at Qredible, we aim to help our users find the best possible legal support for their situations. That's why we maintain a pool of insightful articles to help you understand not only what can be done for your specific situation but also to let you know whether or know you can claim for compensation or ask for help. We guide you to the most relevant solution, from what you can expect from a professional conveyancer to figuring out when the law is on your side.
In conclusion, Qredible is an informative search engine for lawyers in the UK. It is entirely free to search for lawyers and allows you to find the legal support you need. You can even use the platform to narrow down your choices, from location to free consultation, time and price.
Do you need a Lawyer?
Find Solicitors, Lawyers and Law Firms in the UK with Qredible
Find a Lawyer near me