According to the BBC, approaching 42% of all UK marriages end in divorce. This may well come as a surprise to many of you, and it is a somewhat sad and sobering statistic. 
While divorce often tends to focus on the distribution of assets, one element which is seldom thought about, to begin with, but which often comes to the fore after the dust has settled, is the question of whether or not to continue to use your married name, or to change it, usually back to your maiden name.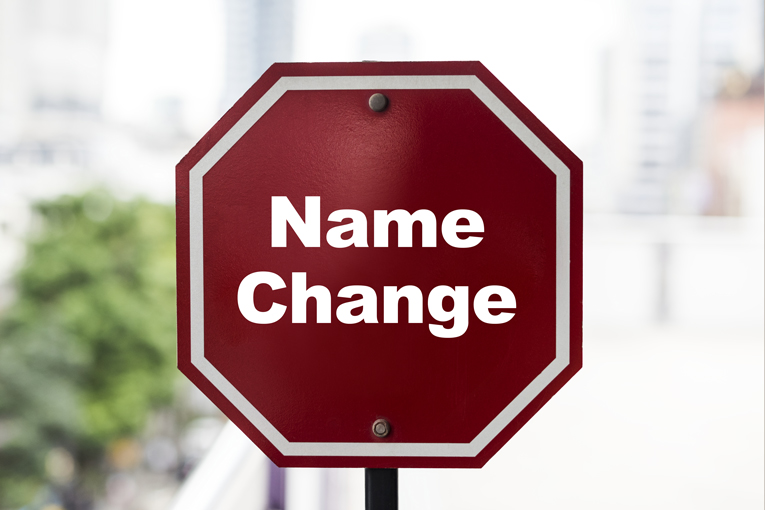 It is more common for women to take the name of their husband when they marry. However, some men opt to take their wife's name or take a double-barrelled surname as a combination of the two pre-marriage surnames. 
Additionally, the question of adopting your wife or husband's surname in a same-sex marriage is now a consideration from the time when same-sex marriages became legal. In all cases, the rules and laws are the same and do not discriminate where sex is concerned.
Before detailing what you have to do when reverting to your pre-marital name, it is worth pointing out that you are not obliged to change your name once you get divorced. It is not a legal requirement that when you are no longer married to someone, you can no longer take their surname.
Reverting to your maiden name
This can be done one of two ways. The most common route is to wait until your decree absolute comes through, and then contact any companies or organisations that have you registered under your married name. They will then advise you what you will be required to send them in terms of identification – this will usually involve sending a copy of your Decree Absolute.
Where banks are concerned, they will often require additional information. This is purely for additional security reasons and to ensure that you are the genuine account holder. Beyond standard proof of identification – your passport or driver's licence – your bank will probably want to see a copy of your marriage certificate as well as your Decree Absolute. 
At this point it is worth mentioning that when you get divorced, the court will retain your original marriage certificate (as you are no longer married) before your divorce, we recommend you take several copies of your marriage certificate.
If you choose to revert to your maiden name, or as some people do, change their name to something new once they get divorced, you are legally obliged to inform the UK Passport Office. 
To apply for a new passport online it will cost you £75.50, or you can complete a paper application by going to the Post Office, though that will cost £85.00.
To change your name on your passport, you will need the following:
A copy of your birth certificate

A signed statement from you stating that you are reverting to your maiden name 'for all purposes' 

Documentation such as a bill or payslip with your 'new' name on it as proof you are now using it 

A copy of your Decree Absolute showing both names on it

Your marriage or civil partnership certificate with both your names on it
Please note that to change your name after your divorce has been finalised requires you to meet the following criteria:
The marriage must have taken place in Great Britain

The divorce has been finalised in the British courts

You have a copy of the decree absolute

You wish to change your name back to your maiden name only
All the above relates to changing your name after your Decree Absolute comes through. So, what can you do if you want to change your name before the divorce comes through?
Changing your name by deed poll
The names we have are as a result of current legislation, in that when we are born, our birth is registered, and with that registration, our names become embedded in stone. 
Depending on whether your parents are married, or you are the child of a single parent, your surname will be the same as that of your father, or mother if she is a single parent. 
However, the law does allow us a bit of freedom in that once we reach the age of 16, we are allowed to change our name, legally. Before that, our parents have the legal right to change our name by deed poll. 
Changing your name by deed poll is best done by applying to the Royal Courts of Justice to get an 'enrolled' deed poll. This will currently cost you £36.00. You can make an 'unenrolled' deed poll yourself once you reach the age of 16, but you can only get an 'enrolled' deed poll once you have reached 18. We strongly recommend you opt for an 'enrolled' deed poll as this is accepted everywhere as proof of a change of name, while some organisations will not accept an 'unenrolled' deed poll. Besides, your new name will be put on public record with an 'enrolled' deed poll.
To change your name by deed poll, you will need to fill in forms LOCO20, LOCO22 and LOCO25, all of which can be downloaded from the UK government website. These forms should be sent, along with any additionally requested documentation, to:
Queen's Bench Division
Enforcement Section, Room E15
The Royal Courts of Justice, Strand
London, WC2A 2LL
Please note that if you are changing your name by deed poll before your Decree Absolute coming through, you must advise all parties involved in the divorce, including the law courts, of your intention to change your name.
Key Takeaway
Changing your name after a divorce can be very cathartic, but we strongly recommend you allow time to pass before making a final decision as it is very often one that is initially made from an emotional as opposed to practical standpoint.
It is also worth noting that if there are children as a result of the marriage, if you change your name, either by deed poll or after your Decree Absolute has come through, the surnames of your children will not automatically change as well, even if you have sole custody of them. This can create a strange family dynamic where children and their mother have different surnames.
Our divorce solicitors specialise in all areas of divorce and family law. If you are unsure if or how you want to go about changing your name, they will be more than happy to give you the necessary guidance. 
Do you need a Lawyer?
Find Solicitors, Lawyers and Law Firms in the UK with Qredible
Find a Lawyer near me