When parents separate and the subsequent issues of child custody can often be fraught with arguments and tension. This is further complicated when there have been issues with domestic violence within the relationship. 
The challenge for professionals is to balance the wellbeing of the child; with the risk of harm to the parent who has been a victim of domestic violence.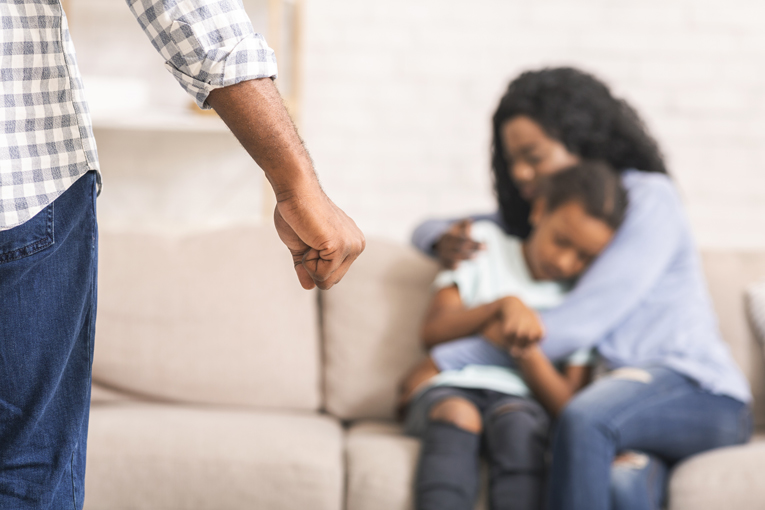 If the breakdown of the relationship is based solely or partly on violence within the home, safeguarding measures need to be put in place to protect the parent and child from further harm at the hands of the perpetrator. 
This could include the abusive parent being denied access to the child or only being allowed supervised access. An abusive parent is unlikely to be given custody of the child even if they ask for joint capacity. The abuser will only be given visitation rights if the courts decide that they pose no risk to the child. 
What is Domestic Violence in the UK?
UK law defines domestic violence as "Any incident or pattern of incidents of controlling, threatening behaviour, violence or abuse (psychological, physical, sexual, financial or emotional) between those aged 16 or over who are, or have been intimate partners or family members, regardless of gender or sexuality."
Nevertheless, there are also other factors to consider, which might lead to an incident or pattern of behaviour being classed as domestic violence. These include:
Controlling behaviour – Where one partner aims to dominate the other by isolating them from friends and family, denying them support, making them feel inferior, causing them to be dependent by withholding how they may support themselves such as controlling their access to money or not allowing them to work.
Coercive behaviour – Making a partner feel fearful or intimidated through aggression, assault, abusive language, threats or humiliation.
Implications of domestic violence on child custody decisions
When deciding whether the perpetrator of domestic violence should be allowed access to their child, the courts need to consider the impact of the abuse on the physical and emotional wellbeing of the child in the present, past and future. 
The offending parent will need to show that they understand how their past behaviour has harmed their child's life and their emotional development. They will also need to demonstrate that they are taking positive steps to address their offending behaviour and convince the court they pose no threat to the child. The court may limit or deny their access to their child if they are unable to do either of these. The court will also consider the role that each parent has played in the child's life so far and the reasons that the abusive parent is seeking custody.
Changing child custody arrangements following abuse
If you are suffering abuse, you should seek help from professionals to protect you and your family. It may not always be easy to do, particularly if you are suffering at the hands of a controlling partner but you should make a note of any instances of abuse recording what happened, what the impact was on you and anybody else affected by it and how it made you feel. 
This log can then be used as part of your evidence when you are seeking custody of your child. Likewise, photographs of injuries or damage along with a date and time stamp will be useful evidence as to any medical records, so if you can visit a GP or hospital, then you should do so. 
If friends, family or neighbours have witnessed an incident ask them to record what they saw or make a note of the day, date and time so they can be approached by police to make enquiries. All incidents of domestic violence, no matter how small you may feel they are, can and should be reported to the police. You can also report any other illegal acts that your partner engages is such as drug-taking or drink driving to the police. Even if they are unable to take action, they are required to keep a record of such calls, and this can form part of your evidence.
If you are scared that the process of applying for custody will take time and concerned how your partner will react when he finds out what you are doing, you can leave the property and call the police who will help find you and your family a safe place to stay, away from your abusive partner. You should then seek help from a solicitor specialising in family law who will advise you on the next steps to take. 
What is an emergency protective order?
One option is an emergency protective order which is a temporary order put in place to give you time to make long-term custody arrangements. 
Another option is for the police to issue a Domestic Violence Protection Notice (DVPN). You will then need to apply to the Magistrates' Court for a Domestic Violence Protection Order (DVPO) which will prevent your partner from having further contact with you. This DVPO lasts for 28 days, and if your partner does try to contact you at that time, they can be arrested for a breach of the order. 
Alternatively, you can apply for a non-molestation order which will prevent your partner from using threatening behaviour or violence against you or harassing you directly or indirectly. Breach of a non-molestation order can be dealt with criminally or in a civil court. Other options are to seek an occupation order to prevent the abusive partner living in or entering your home or the surrounding area, or restraining order which is similar to a non-molestation order but has more specific actions such as not to attend your place of work.
If you are applying for sole custody of your child on the grounds of domestic violence, you will need to demonstrate that there are sufficient concerns for the welfare of the child for one parent to be denied access to them. If you are on a low income, you may be entitled to legal aid to help with solicitors' fees and court costs. At each hearing, the court will consider whether there is a threat of harm to the child and whether contact arrangements need to be amended to mitigate any risk. The court will make a decision based on the best interests of the child, taking into consideration the threat of harm to the parent who is the victim of domestic violence.
When contact rights are discussed, it is the responsibility of the abusive parent to demonstrate that they do not pose a risk to the child. It will be for the courts to decide whether they have proven they are not a risk and the abusive partner may be instructed to undergo therapy to deal with the underlying causes of their behaviour such as drug abuse tor alcoholism.
If the perpetrator is granted contact, there may be conditions attached. They may be given what is known as hand-over contact. This is where they are allowed a hand-over through a family support centre. This will be for a limited time, usually once a week and means the victim does not have to have contact with their abuser but can see the parent without the need for supervision. 
If there are doubts regarding the child's safety, the court may instead grant supervised contact. This will also take place at a family support centre, but both the abusive parent and the child will have to remain at the centre for the duration of the visit. In some circumstances, the abusive parent will only be allowed indirect contact via mail, phone or Skype. The courts may decide to grant general contact, which is unrestricted and can include overnight stays. General contact will not be granted where the court decides that the parent poses a risk to the child. 
Get the legal advice you deserve!
Domestic violence can be challenging to prove, and although great strides have been made in updating the laws, the onus is still on the victim to prove the abuse. Nobody should be subject to domestic violence. We are here to help victims to safeguard themselves and their families and bring prosecutions against offenders wherever there is sufficient evidence to do so.
A family law solicitor can help you build a case for child custody on the grounds of domestic violence to will ensure you and your children are safe. Your solicitor will be able to negotiate on your behalf, so you do not need to come into contact with your abuser, but that child custody arrangements are suitable for both you and your child.
If you have any questions, concerns or queries relating to any aspect of domestic violence or any of the information above, do not hesitate to get in touch. Our domestic violence solicitors are here to provide you protect yourself and your family.
Do you need a Lawyer?
Find Solicitors, Lawyers and Law Firms in the UK with Qredible
Find a Lawyer near me