Since March 2020, we have been on a rollercoaster ride in both personal and professional lives. That initial shock of the office closing and so many of us suddenly needing to work from home led to a panicky couple of weeks as ironing boards became standing desks and everyone pulled together to get things done.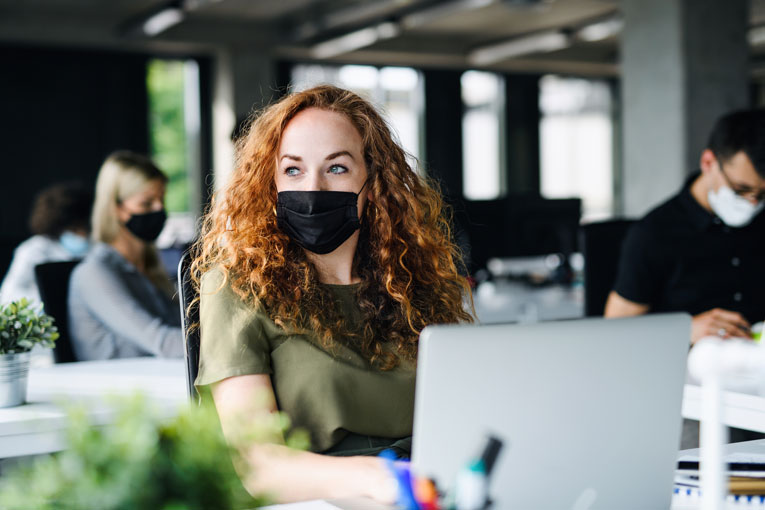 Since then, as the weeks went by, for those who could, working from home stopped being a novelty and became the norm. While for those who could not concern about their future filled the days. As the government champions the easing of lockdown and the reopening of businesses, employers should talk to their workers about what steps to take and only bring them back to their place of work if it is safe to do so. However, not everyone welcomes it. 
From 1st August 2020, the government has revised its guidance about asking people to work from home where they can. Prime Minister Boris Johnson said, "We're going to give employers more discretion and ask them to make decisions about how their staff can work safely. That could mean continuing to work from home or returning to the workplace."
COVID-19 concerns?
There are many reasons that you may not wish to go back to work, and it is essential to be clear, 'I do not feel like working' is not one of them! For those with vulnerable family members, such as older relatives living with them, or if you or other family members are immunocompromised in any way, exposure to the virus has the potential to cause dramatic harm, and as such reducing risk is paramount. 
However, what happens if your boss asks you to go back now? What are your legal rights?
If you or a family member living in your home is vulnerable
There have been no specific rules in place to protect you in this situation. However, there is existing legislation that you can make use of. For instance, if you are disabled or pregnant, then employment laws already in place mean your employer has some additional obligations, including that you must be able to carry out your duties safely. 
The problem here is that this falls into a legal argument about whether your legitimate concerns have been listened to and taken seriously, and that kind of uncertainty is never a good thing.
If you are pregnant or disabled, then you could argue that working from home is the safest option, and the employer is obliged to make that possible, either with your current duties or by giving you a different role than enables remote working for you. Because safety is a legal obligation, most employers should welcome this and find a way to make it work. However, if they refuse, you should take legal advice. 
However, while current employment legislation provides this protection for you personally, there is no such obligation to do so because you have vulnerable people living with you. While you can make a case for yourself here, asking to work from home if possible, using up holidays or other means, ultimately, if the employer can prove they have made the workplace safe according to guidelines, they can insist you attend.
If you have been furloughed, there is a process
Furloughing employees has been a successful policy that has allowed many people who were unable to work from home to continue to get paid. However, that scheme is ending, and employers will soon start asking you to return to work. 
When you were furloughed, the exact process should have been made clear, and this may include a clause that states you must return to work when asked. However, there are some caveats here. 
First, you should have some reasonable notice, there is no definition in law for this, but most employment specialists agree 48 hours is the minimum. 
If you have small children that need looking after or elderly parents and you have been on the furlough scheme, talking to your employer and explaining the problem is a great place to start. Legally, they must allow you to take time off to care for the family in these situations, albeit that is usually without pay. 
However, if the business is bringing back workers over time from furlough, a good employer will help and offer to leave you at home until they have work for everyone. 
Asking questions gets results!
This is a unique situation, and all of us are looking to deal with it as best we can. This does include businesses too, and with no one-size-fits-all solution for everyone, talking to your employer, asking questions and trying to find a mutually agreeable solution is the way forward. 
Most businesses want their employees to be happy and safe, so do not be afraid to ask questions and tell them your concerns. Offer solutions such as a change of duties to allow working from home. The point that needs reinforcing is that having concerns about going back if you or someone you live with is vulnerable is not something to be ashamed of. Speak up and make your case; good employers should always listen to genuine concerns.
Nevertheless, can your boss make you go back?
In reality, for most cases, the answer is yes. If you can demonstrate a reasonable belief that going back is putting you in imminent and severe danger, and you are dismissed for not returning, then you could have a case for unfair dismissal. However, this would be difficult to win.
This also applies if you arrive at your workplace and find that there are no measures for social distancing or other necessities to make work safe for you, then the Employment Rights Act of 1996 can come into play. This states that employees can leave a workplace where there are a demonstrable and immediate health and safety danger. If this does happen, your first action should be to inform the employer and see if things can be rectified. Following that, legal advice is recommended, and it is essential to know that it is again a difficult journey to win a case.
Other than those exceptions though, if your boss does ask you to return and you cannot negotiate an alternative option, you will have to go back or face redundancy. If you feel you have a case regarding safety at work, or you need advice on your particular situation and concerns about Covid-19 in the workplace, we are here to help. Contact our employment law solicitors today for a fast response and peace of mind.
Further reading: 
https://www.dailymail.co.uk/news/article-8584511/Pimlico-Plummers-tycoon-Charlie-Mullins-FIRES-staff
https://www.scope.org.uk/advice-and-support/employee-rights-coronavirus
https://www.unison.org.uk/coronavirus-rights-work/
https://www.citizensadvice.org.uk/work/coronavirus-if-youre-worried-about-working/
Do you need a Lawyer?
Find Solicitors, Lawyers and Law Firms in the UK with Qredible
Find a Lawyer near me