Getting back to your car, after an enjoyable day out, and seeing a parking ticket can really put a dampener on your day.
There are many theories online about whether you must pay these parking fines and lots of confusion around what we should be doing.
So, read on for everything you need to know about private parking tickets and your legal rights.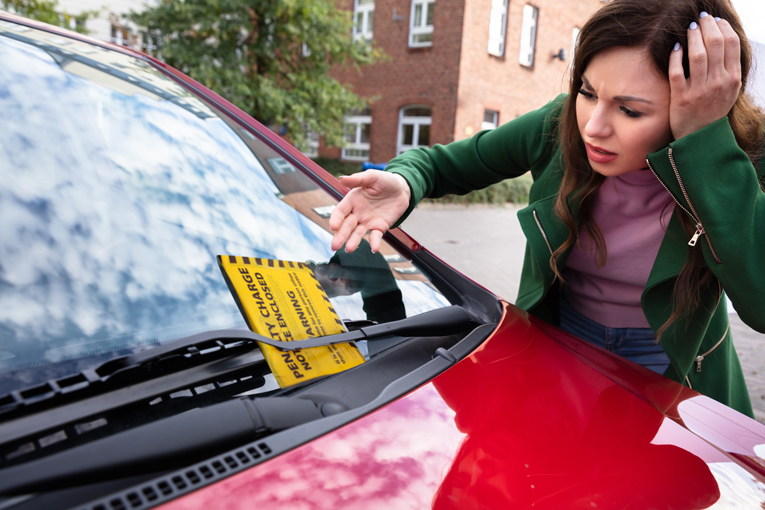 Who issued the parking ticket?
How you pay, dispute or deal with a parking ticket depends on who supplied it.
Different rules apply depending on whether the ticket was issued by public officials or private companies.
Public officials:

 These will include police officers or council workers

Private companies:

 These will include multi-story car parks, supermarkets, hospitals, and retail parks
It should be evident from the ticket itself whether it was given by a police officer, the council, or a private company.
If a private company dispensed the ticket, they have no legal right to demand payment from you. However, this does not automatically mean that you should ignore it.
What are the types of parking ticket?
The common types of parking ticket in the UK are:
1. A Penalty Charge Notice (PCN)
A PCN is issued by local authorities if you either park for too long, or in an incorrect spot. You can also receive a PCN for breaking some traffic rules. These can include driving in a bus lane or contravening a 'no right turn' sign. PCN's are also dispensed for not paying fees in congestion zones or low emission zones on time.
If you do not pay a PCN within 28 days, you will receive a 'charge certificate'. This means that you have a further 14 days to pay the original fine plus an additional 50% surcharge.
2. A Fixed Penalty Notice (FPN)
Fixed penalty notices are distributed by the police, the local council or the Driver and Vehicle Standards Agency (DVSA). If you fail to pay your penalty notice within 28 days, you will be issued with a further 50% fine.
In addition to an FPN, you can also receive penalty points on your license. However, this is often for more severe parking penalties, such as parking a vehicle in a dangerous position.
3. Parking Charge Notice
A parking charge notice is different from a penalty charge notice. A parking charge notice is issued by private companies for breaching parking rules on private land. This can include standard or excess charges for not purchasing a ticket, parking longer than allowed, or fines for parking were not permitted.
Is the ticket justified?
Once you have established whether the ticket is from a private company or public official, you need to confirm whether it is justified.
Have you parked in contravention with the rules? Are there advertised parking restrictions in the area? Have you stayed for longer than you should have?
What reasons can I use for appealing the ticket?
If you feel that the ticket is not warranted, then you must back up your reasons for appealing. Your petition will likely be more successful if your argument falls into one of the following legal categories:
The contravention did not occur
You could cite this argument if there were no parking restriction signs if you were permitted to park at a particular time or there was simply an error made by the issuing warden.
The penalty charge is excessive.
You can appeal the ticket because the amount charged is more than it should be. For example, the capped amount for local authority tickets is £130 in London and £70 for the remainder of the UK.
The Traffic Regulation Order is invalid.
You can use this argument to contest if the ticket is not valid. For example, if any information is missing or incorrect.
You may have received a ticket incorrectly. For example, if you sold your vehicle, but it is still registered in your name or in the process of being transferred.
If the vehicle was taken without your consent when the violation occurred, this could be grounds for appeal. However, you will likely have to provide proof you had reported the vehicle as stolen. 
What action should you take when receiving a ticket?
If you feel that your ticket was not issued correctly, there are two available options. You can either:
Appeal and complain to the issuing company

Ignore the ticket – however, you run the risk of finding yourself in court with this option
How do I challenge a parking ticket?
You may be able to contest a ticket if you think it is wrong or has been dispensed incorrectly.  
Challenging a penalty charge notice (PCN)
You have 28 days to oppose a PCN from the date of issue. If you challenge your ticket within 14 days and your dispute is rejected, you may only have to pay 50% of the fine. However, always check your ticket as there may be alternative rules for some PCNs.
Challenging a fixed penalty notice (FPN)
To challenge an FPN, you need to apply to the magistrate's court. Your specific ticket will inform you how to do this. You will then receive a court summons with a date to attend the court hearing to state your appeal.
Challenging a ticket from a private company
The parking ticket will confirm who the issuer was. You should contact them directly to get details of how to appeal the parking fine.
If your application is rejected, you can then approach an independent appeals service. If the ticket operator is a member of an accredited trade association, it will state who their regulator is on their website.
The two key independent appeals services in the UK are:
Parking on Private Land Appeals (POPLA) if the operator is a member of the British Parking Association (BPA)

Independent Appeals Service (IAS) if the operator is a member of the International Parking Community (IPC)
Do you have to pay for private parking fine?
You may have heard many people say that you do not have to pay fines set by private companies. The truth is that private parking companies can only force you to pay by issuing court proceedings.
It will depend on the amount you owe as to whether a company will take a case that far – the cost of your fine outweighs the cost of proceeding to a small claims court.
If the case does reach a hearing, you will have the right to defend yourself and provide your reasons for refusing to pay. There is no guarantee that their claim against you will be upheld. 
However, if you do receive a summons, you should always contact a legal professional for advice.
What if the company is not an accredited BPA or IPC member?
If the private parking company is not a member of the British Parking Association or the International Parking Community, then a dispute process may be more difficult.
The only option here is to appeal to the parking company directly. 
You can consider reporting the parking company by complaining to the landowner, for example, speaking to the supermarket or hospital directly to argue your case.
However, before doing this, it is worth speaking to a professional to assess whether your letter of the contest is worthwhile and whether contacting the parking company is really in your best interests.
Get the law on your side!
Is it better to ignore the ticket?
If a parking company is not regulated by the BPA or IPC, then they do not have access to the DVLA directory. This means they can have your vehicle registration but cannot use it to retrieve to the registered keeper details.
To take you to a court or issue a summons, they will need your correct address. Therefore, by appealing, you could be providing them with the necessary contact details to proceed to litigation.
Further information about the BPA or IPC can be obtained from the Citizens Advice Bureau.
Takeaway
No one likes to receive fines or penalties, especially when they are unjustified or excessive.
Often dealing with a fine from a private parking company can be a tactical procedure, and we always recommend getting an expert on your side.
If you have received a ticket and have lost an appeal, contact one of our small claims court solicitors today without delay to claim back a refund.
Do you need a Lawyer?
Find Solicitors, Lawyers and Law Firms in the UK with Qredible
Find a Lawyer near me