The UK opens quarantine-free travel to and from 59 countries
On Friday 3rd July 2020, the British government released a statement that will appeal to the UK's keenest globetrotters.
These changes only apply to those in England. It features a list of 59 countries that you can visit without the need to quarantine for two weeks.
This brief announcement has raised more questions than it has answered. So, read on for the full Q&A about travelling abroad to sanctioned destinations this summer.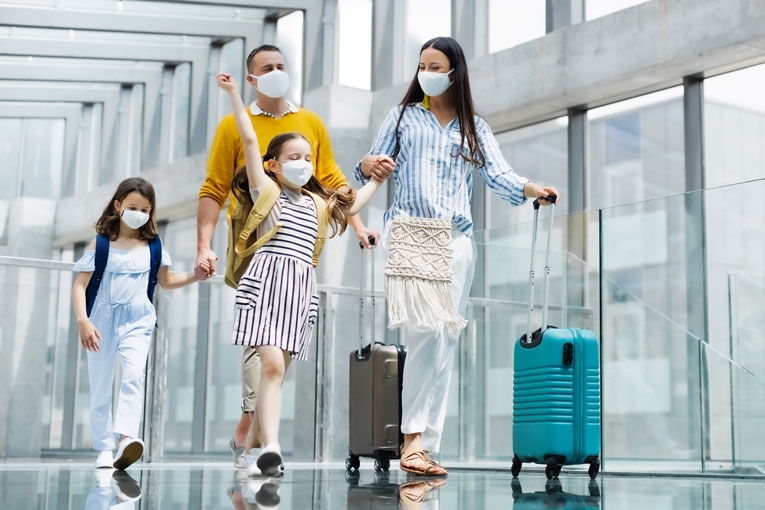 What new information has the government announced?
The government have declared a list of 59 countries where quarantine rules will no longer apply. The previous ban on all non-essential international travel is being overhauled effective of 10th July 2020.
It means that those travelling between England and the approved countries will not have to self-isolate. This is unless they have visited or stopped in any other territory in the preceding 14 days.
The rules apply to all forms of international travel. This includes train, ferry, coach, or air.
Is the current advice the same for everyone across the UK?
No. These new travel developments only apply to those residing in England. You must follow the guidance relevant to where you live. For more information, you should refer to the specific regulations for England, Scotland, Wales, and Northern Ireland.
What destinations can I travel to from England?
From 10th July 2020, those in England can visit designated "travel corridor" destinations. However, two separate registers were published, and not all destinations match. 
Only 48 locations feature on both lists. It is therefore essential that you check with the appropriate consulate before travel.
The current list of locations no longer presenting an unacceptably high risk to British people is available on the government website. However, the Foreign & Commonwealth Office (FCO) are continually reviewing the list, and we recommend that those intending to travel monitor any changes carefully.
What safety precautions can help me travel abroad safely?
The government are still only recommending travel for essential or business purposes. However, if you are going to travel to a permitted destination in the coming weeks or months, then you must plan. 
Even if you are visiting a place you have been before, you will likely encounter many changes and new rules.
You can keep abreast of any immediate amendments by signing up for consulate email alerts for your specific destination. It will help if you familiarise yourself with the lockdown protocols of where you intend to stay. The government-affiliated Travel HealthPro website can assist you with all the information you need.
What are the current recommendations about staying safe during air travel?
Using your common-sense is critical for any travel during this time. The essential advice from the government about air travel includes:
Understanding the public health requirements of your destination country before you book a flight

Check-in to your flight online where possible. Try to minimise any hand-baggage taken onto the aircraft. This will facilitate both boarding and disembarking. It can also minimise the risk of COVID-19 transmission

Avoid walking around the airport terminal, touching surfaces, and mixing with people outside of your immediate travelling group
Further information about safer air travel is available on the government website or by contacting your specific airport.
What if the destination I am visiting goes back into lockdown while I am abroad?
No travel is risk-free, especially at this time. If the local authority where you are staying recommends reinforcing quarantine, then you should adhere to their advice.
If you are in a location with suspected coronavirus cases, then you may need to remain in your hotel room or accommodation for 14 days. You could also be required to move to a quarantine facility, take medical tests or be hospitalised abroad.
If you find yourself in this type of situation, then you must contact your airline, travel company and insurance provider urgently.
Any attempt to depart from a country under lockdown should only be made when assisted by the authorities.
Will my travel insurance cover me for any coronavirus associated problems while I am abroad?
If you already have an insurance policy in place, then you must check what cover it provides for COVID-19 incidents. This can include both medical cover and claims for travel disruption.
Not having insurance in place before you travel means you could be liable for any emergency costs, including medical treatment.
We recommend you secure your travel insurance as soon as possible after booking your trip.
What do I need to know about re-entering the UK after travelling abroad?
After 10th July 2020, if you are travelling back to the UK following a stay in an authorised destination, you must:
Complete the compulsory passenger locator 

government form

 48 hours before you are due to arrive back in the UK

Follow the relevant self-isolation mandate if you are feeling 

unwell

 or if the requirements apply to you
You must follow the rules on returning to the UK correctly. You may be fined £100 for not correctly completing the passenger locator form —alternatively, up to £1,000 or custodial sentencing for repeated contraventions of the law.
What if my hometown goes into lockdown while I am abroad?
The government are continually reviewing the status of the pandemic. This means that specific locations can be forced back into lockdown if there is a flare-up of cases.
If you are abroad, this means that you may not be allowed to return to your hometown. You should still be eligible to return to the UK, and you should contact your insurance provider to talk through cover and accommodation options.
If you are concerned about coming back to the UK, then you should speak to the British consulate as soon as possible. They may be able to offer advice on your repatriation options.
Key Takeaway
Although the government travel advice implies that this worldwide pandemic is easing, we still need to be extremely cautious. Travelling abroad, even to permitted destinations, can result in countless problems, and added expense.
Ensure that you familiarise yourself with the rules of your intended destination, especially with regards to any restrictions or health precautions that are mandatory. Not doing so can leave you vulnerable to hefty fines or illness.
If you are in doubt or concerned about your travel rights, then it is always best to seek expert advice. Contact one of our consumer rights solicitors to talk through your options.
Do you need a Lawyer?
Find Solicitors, Lawyers and Law Firms in the UK with Qredible
Find a Lawyer near me