If you are in the market for a new property, then you may have seen the phrases "sitting tenant" or "tenant in situ".
As more of the UK are migrating towards renting instead of buying, the existence of the long-term sitting tenant is on the rise.
Read on for all you need to know about sitting tenants, their rights and how this could affect you.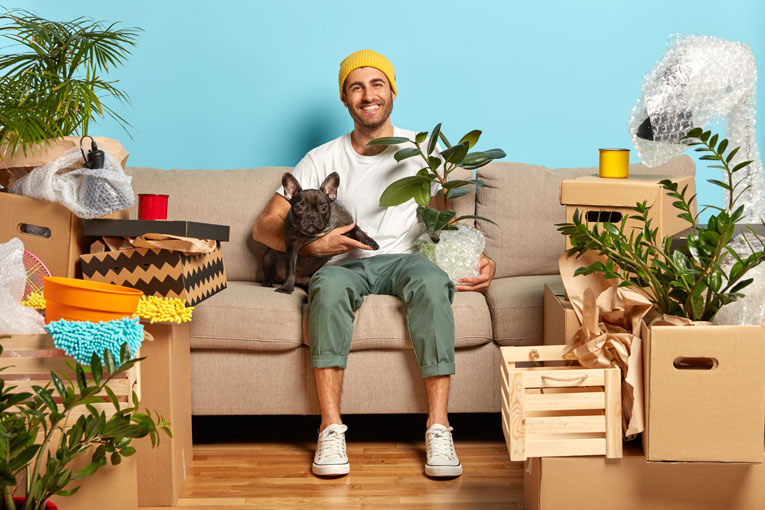 What is a sitting tenant?
A sitting tenant is someone who is renting a property that their landlord has decided to sell.
Depending on the type of contract the tenant has, they could legally continue living on the premises once the sale has gone through.
What are my rights as a tenant?
So, your landlord tells you that they are looking to sell the residence you are renting. Once the property has changed hands, your new landlord may want to:
Continue with your tenancy as it is

Improve or renovate the residence

Evict you to stop renting the property or to choose their tenants
When the new landlord purchases the building, they will absorb ownership of your existing lease. If your lease is an Assured Shorthold Tenancy (AST), then they will be bound by the current terms and conditions of the agreement.
If your new landlord decides to end the tenancy and evict you, they can do this. However, they will have to serve a Section 21 notice first.
What if my lease is not an Assured Shorthold Tenancy (AST)?
Most modern residential tenancies are covered by an AST. However, if you rent a specific property before 1989, you will have the security of tenure. This means you can legally remain in the dwelling as per the Rent Act 1977.
As a tenant, what do I need to do?
If you are a sitting tenant, you will not need to get involved in the process of the house sale or the change of ownership.
The bulk of any administration and responsibility will be for the new landlord to deal with. However, as the tenant, it is essential to know your rights so you can ensure that any changes happen smoothly and legally.
1. Meet and greet
It is worth meeting your new landlord or making yourself available if they suggest a face-to-face introduction. Being friendly and amenable can benefit both parties in the long term.
2. Deposit Protection Scheme
All deposits legally need to be registered and stored with the DPS. When ownership of the property has been transferred, your new landlord has to contact the DPS to change any relevant details.
If they have not mentioned this to you, then it is worth asking! Ensure that they have remembered to do this and that your deposit remains adequately protected.  
3. Necessary Documents
While the new landlord should deal with all the relevant paperwork, there are a few pieces that you should request copies of. These are a Section 3 notice showing the transfer of interest in the property. Section 48 and/or Section 47 notice, confirming the identity of your new landlord.
What are my rights as the new landlord of a property with sitting tenants?
It is often the case that a buyer will pay less for a domicile when there are sitting tenants present. However, you should be aware that some mortgage lenders refuse to fund such purchases so you will need to keep this in mind.
What are the benefits of buying a property with sitting tenants?
Landlords may find the idea of buying a dwelling with tenants already in situ quite appealing. Doing this means you will receive instant rental income, no letting agents, or finder's fees. Nevertheless, it would be best if you always erred on the side of caution too.
When deciding whether to maintain a tenancy with the existing tenants, you should think about or make enquiries into the following:
Are the tenants good leaseholders? Do they pay their rent on time?

Have there been any disputes?

What background checks or references did the original landlord do?

Do the tenants have a deposit registered with the DPS?

Is there an existing inventory covering the condition of the house when the tenants moved in?
I want to sell my property with sitting tenants. Is this a sensible decision?
You may think that selling your building with tenants in situ will add to the complexity of affairs. However, it is quite a straightforward procedure.
Selling a house can be quite a lengthy process, taking on average 129 days from marketing the property until the sale is completed. This means that if you decide to evict your tenants before putting your abode on the market, you could lose money. That could be four months of lost rent while your abode is sitting vacant. Therefore, selling with tenants in situ may make more sense.
What are the advantages of selling a property with sitting tenants?
Selling a property with tenants in situ has its advantages, especially for the potential new landlord.
Some of the keys draws for the buyer can include:
Reliable and instant rental income
Some landlords prefer buying properties with sitting tenants. It means they can ensure a reliable income; they will not have to find new tenants and can receive immediate rental revenue.
The new landlord can take over the residence with the comfort that the existing tenants are already familiar with the premises and how to abide by their rental agreement.
It also saves the new landlord time and money carrying out searches on the tenants' credit history, job references, and deposit protection scheme.
Finding new tenants, conducting credit checks, drawing-up a new tenancy agreement. These can all be time-consuming and expensive chores for a new landlord. Sitting tenants can, therefore, be particularly beneficial when the property market is slow and if the landlord needs income quickly.
If a landlord purchases a property with the tenants in situ, they will not need to recruit an estate agent. Again, this saves time, money, and hassle for the new owner.  
Key Takeaway
Long-term renting and selling properties with tenants already in situ are set to become a more common-place event.
Are you considering selling or buying a rental property? Or are you a tenant and you have questions about the change of ownership or your rights? If yes, then get in touch!
We have a panel of professional, experienced, and qualified landlord and tenant solicitors ready to help!
Related article: Tenant eviction – Eviction process without going to court?
Do you need a Lawyer?
Find Solicitors, Lawyers and Law Firms in the UK with Qredible
Find a Lawyer near me