In many parts of the country, and especially London, there is tremendous competition from would-be tenants, and at times there is a distinct shortage of available property. 
In order to find out what separates a reasonable prospective tenant to a very good one, we asked several landlords and letting agents what helped them decide whether or not a prospective tenant would likely be a good 'bet'.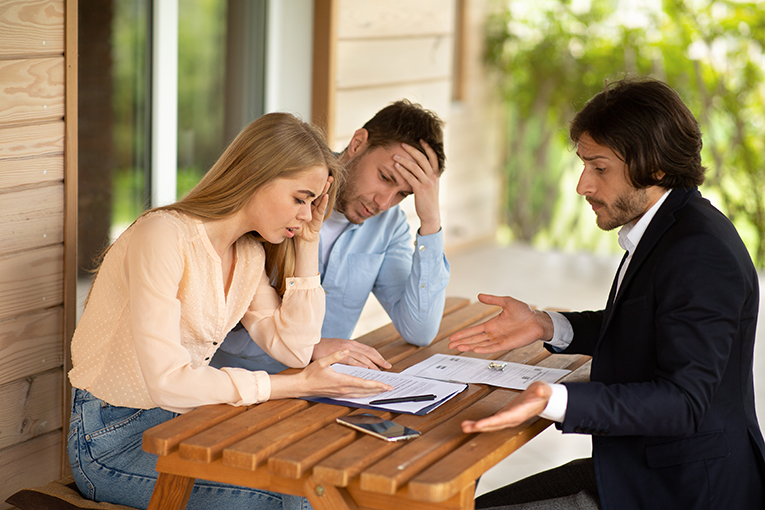 The overwhelming consensus was that a prospective tenant who created the right first impression would always stand a better chance.
So, what was it that enabled prospective tenants to nail that first impression? 
The answer was simple: those who were best prepared and who understood what was important when it came to being a tenant.
To clarify, we will highlight seven features of a prospective tenant that tick all the right boxes. 
Please note that if you are renting the property together, you will both be signing the lease and therefore both of you will have to be equally prepared:
1. Honesty
Your landlord or letting agent are going to check out your references and finances. If there is anything in your history, you feel that they may be concerned about, address the issue upfront. You should be the one to draw their attention to the potential problem, rather than leaving them to find out for themselves and possibly draw the wrong conclusion. More to the point, if you raise the subject at the very beginning, you will not only show yourself to be an open and honest prospective tenant, but you will also have time to put forward your side of the story so that the agent or landlord has a full understanding of past problems. If you think about it from the alternative perspective, if you have not been upfront about your past, then questions will be silently asked as to why you chose to hide such critically important information, and very likely the wrong conclusions come to.
2. Be organised and prepared
When a property is empty, it costs both the landlord and the letting agent money. Consequently, when a property becomes available, quick decisions need to be made when it comes to choosing a tenant. Besides, if you approach a letting agent and there is not anything available to rent, you want to make sure that when something does become available, you are one of the people they ring straight away. 
The best way to achieve this is to have all your paperwork in order, from references to bank statements, employer references and copies of your passport and, where applicable, any visas. If a letting agent knows that subject to verifying your references, everything else checks out, you will find yourself at the top, or very near the top of prospective tenants, they are going to work hard to find a place for.
3. Get your references in order
Do not let a previous landlord or letting agent be caught by surprise or unaware. When preparing to leave your previous accommodation and on the basis, the termination of the tenancy has been amicable, you should ask either the letting agent or the landlord for a written reference and then advise them to expect a phone call to verify that they are, indeed, the referee. 
If you do not have your references organised, there is every chance that by the time your letting agent has received a reply to a request for verification, the property you were after has been let to someone else who was better prepared. 
4. Respond to all phone calls and correspondence immediately
As you will become aware, efficiency is critical when it comes to securing rented accommodation. If you receive a letter from your prospective landlord or the letting agent, do not even wait a day before acting. If they are asking for further information, get that information immediately or, failing that, acknowledge the letter with a text message and confirm when they can expect to receive the information required. If they ring you and you miss the call, ring back the moment you are able.
5. Make sure you can afford the property you want to rent
If you are sharing the property, work out who will be responsible for what payments. It could be that you are flat-sharing as friends or colleagues, or you could be renting as a couple who are romantically involved. Whatever the case, you must draw up a legal agreement between the two of you who will be responsible for what where payments are concerned. 
As a general rule of thumb, when it comes to two people renting a property together, you will need to prove a joint annual income that is 30-times the monthly rent. Thus, if the rent is £1,200 per month, then you will need to prove a joint income of £36,000 per annum (30 x 1200). It is particularly important that if you are renting the property together, but as individuals as opposed to a couple, and one of you earns significantly less than the other, then you must also provide a legal document showing what agreement you have come to between the two of you concerning the apportionment of the rent. 
6. Look for a guarantor
If there has been a problem in the past or there is a possibility you may be seen as a risk when it comes to paying the rent, this is not the end of the world. Many tenants live in properties where they have secured the accommodation with the help for a guarantor. A guarantor is someone who will legally commit to making up any shortfall in rental payments. If you are going to get help from a guarantor, then a letter from them confirming their agreement to act as a guarantor will not be sufficient. You will also need to provide copies of bank statements or savings that make it clear that if you fail to pay any of the rent (they will be responsible for ensuring 100% of the rent is paid), they have the funds to cover all the shortfall.
7. Get all our finances in order
Beyond having bank statements to prove you can afford the rent being asked, there will be additional costs incurred when renting a property. For a start and as a minimum, you will be required to put down two months' rent – this covers the first monthly rent payment – rent is paid monthly in advance – and one month's rent as a refundable security deposit. 
On top of that, there may well be fees to be paid to the letting agent for their services, and the creation of the tenancy agreement. It is a good idea to ask your letting agent what the likely additional costs will be and how much the security deposit will be, as well as advising then you are fully aware that one month's rent will also need to be paid in advance. This will help reassure the letting agent you understand your responsibilities and can likely meet them.
If you think that much of the above is expecting too much of you as a prospective tenant, then consider this scenario. There are two of you who are wanting to rent the same property. Who is the landlord or letting agent going to favour? The one who has everything in order and who has all the information needed at their fingertips, or someone who cannot provide any evidence to show that they might be a suitable tenant?
Renting a property is a significant step as you are not just putting a roof over your head; you are also creating a home. If you require a guiding hand and especially someone to check over any tenancy agreement you are offered, please feel free to get in contact with our expert landlord and tenant solicitors who have built up substantial experience in this area of law. They can offer you tailored advice to your needs.
Do you need a Lawyer?
Find Solicitors, Lawyers and Law Firms in the UK with Qredible
Find a Lawyer near me