Whether you're 5, 15, or 50, your parents are still your parents. You fight with them, you laugh with them, you make fun of them, you experience life with them. Despite their flaws, embarrassments, and quirks, you love them. So, what happens when they turn around and tell you that things have changed and that they don't love each other anymore?
Parents divorce for many reasons. Usually, divorce happens because a married couple feels they can no longer happily live together, or that the love they had when they first married has morphed into something too distant to return to.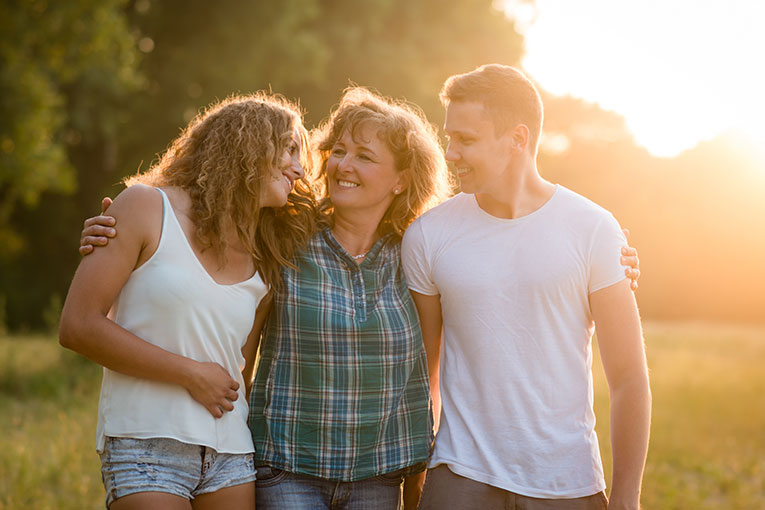 Unfortunately, especially during the teen years, it's prevalent for children to think that their parents' divorce is somehow their doing.
There is an unfortunate tendency to feel guilty about what happened or wish that something they could have done would have prevented the separation. 
Whether that be preventing arguments or cooperating more within the family; doing better with their behaviour, getting better grades or performing better in athletics. But separation and divorce are always a parents' decision.
It's important to remember above all else that at the end of the day they have to deal with issues between them, not them and their kids.
The sentimental feeling when parents are getting divorced
If your parents have told you they plan to divorce, you may be experiencing many feelings. Stress. Anger. Sadness. Frustration. Guilt. Anxiety.
Consequently, you may feel protective over one parent or blame another for the situation. You may feel abandoned or afraid.
Therefore, you may also feel a combination of all of these things moment to moment. Each day may bring up a new emotion within you. This is all normal. 
Sometimes the most comforting reassurance is to know that others before you have felt what you're feeling, and others after you will sense how you feel now.
Nearly 50% of marriages in the United States end in divorce. Of those, more than 60% have children involved. You are not alone. 
Divorce rates in the UK
According to recent divorce statistics, 42% of marriages in England and Wales end in divorce. The 1980s was the decade that produced the most unsuccessful marriages: of the 344,334 couples who tied the knot in 1983, 43% subsequently divorced, a higher rate than today.
Impacts of divorce on your life
If you grew up in one house with both your parents and perhaps a few siblings, a divorce will likely primarily change the daily dynamic. The separation could incite things like moving, changing schools, spending time with both parents separately, and perhaps even having to manage your parents' unpleasant feelings and thoughts about one another. 
Your parents may initially go to court to determine custody arrangements and living situations. You could end up living with one parent most of the time and visiting the other occasionally, or your parents may choose to split time with you evenly.
Often, you will get a say in whom you choose to live with, or where you want to spend your time. Take your time making these decisions. Do what is best for your mental health and stability. 
Your parents will want what is best for you above their feelings – if remaining around your friends you've grown up with or not moving out of your school district is what will allow you to stay grounded during this tumultuous period, make your voice heard.
Advice during your parent's divorce
There are several things that parents and teens can do together to make a stressful situation a little bit easier. 
Don't let anger get the best of you
Anger is often a secondary emotion. It is easier to feel angry than it is to feel sad, scared, or hurt. Recognise this in both yourself and your parents. It's okay to feel angry but try to remember not to let it control or impact your life for the worse. 
Look inward, ask yourself what you're genuinely feeling, and try to communicate those feelings with those around you if you feel comfortable doing so. Take a deep breath and try to let the anger go – be fair to yourself and those around you by not letting deep-rooted hatred get the better of you. 
Don't be their go-between
Sometimes, one parent will want their child to send a message to the other. This is not your job! Know that it is the furthest thing from your responsibility. As difficult as it can be to say no, it is often more detrimental than beneficial to assume this role. 
Your parents should handle their communication with each other, independent of you. 
Talk to your parents
Don't keep your parents in the dark about how you might be feeling. They know this is not very easy for you. Let them know what you're experiencing emotionally – it's okay to tell them that you're angry or sad. They probably are, too.
Talk to your parents about how they can be there for you, and how you can maintain a relationship as a family despite the new separation. Let them know what you want for your family as you all move forward into the unknown and undefined space and future. 
Looking for a fast & simple divorce solution?
Going through a divorce can be very challenging and time-consuming. Contact a
mediation solicitor
now to reach an amicable divorce!
Talk to your close friends or speak to an expert
Sometimes someone outside of the immediate situation is the easiest to express your emotions to. The people that love you go further than just your family. Your close friends care about you. They'll want you to feel as though you can lean on them during this difficult time. Although it might be hard to talk about with some of your friends, don't bottle it inside. You never know, maybe they have a shared experience that could help you feel less isolated or misunderstood. 
If friends feel out of the question, talk to a therapist, or even a school counsellor. This might be something you feel uncomfortable with at first, but it can be a make-or-break difference in the long run. If you're having a hard time settling with your emotions, they may be able to provide you with helpful insights or emotional coping strategies that change your outlook entirely. 
Key Takeaway
When dealing with your parents' divorce, try and stay away from blame and guilt. It's easier said than done but do what you can to stay positive. Your parents likely divorced because they were no longer happy together, and no longer providing you with the best home they could.
Living apart may be what allows them to achieve happiness, even if it doesn't feel like that in the short term. 
You'll face tough emotions, but what you are experiencing will make you a stronger person. Stay focused on your strengths, the people you love, and your goals for the years to come. 
This article was primarily aimed at adolescents experiencing parental divorce. For information on what to do if your parents separate when you're an adult, see: 
• https://www.nytimes.com/2016/04/24/fashion/weddings/never-too-old-to-hurt-from-parents-divorce.html
• https://graziadaily.co.uk/life/opinion/deal-parents-divorce-20s/
To help you reach an understanding of all the issues that matter to you both: from the division of your money and assets to child arrangements, contact a mediation solicitor now!
Do you need a Lawyer?
Find Solicitors, Lawyers and Law Firms in the UK with Qredible
Find a Lawyer near me