The Eviction Process
Before starting the process to evict a tenant, you will need to determine which type of possession you need.
• Standard Possession: Used when the tenant is in rent arrears
• Accelerated Possession: Used for all other evictions, except for unpaid rent
The most common type of tenancy is an Assured Shorthold Tenancy (AST). AST tenancies have stringent rules that need to be followed to ensure that the eviction is legal.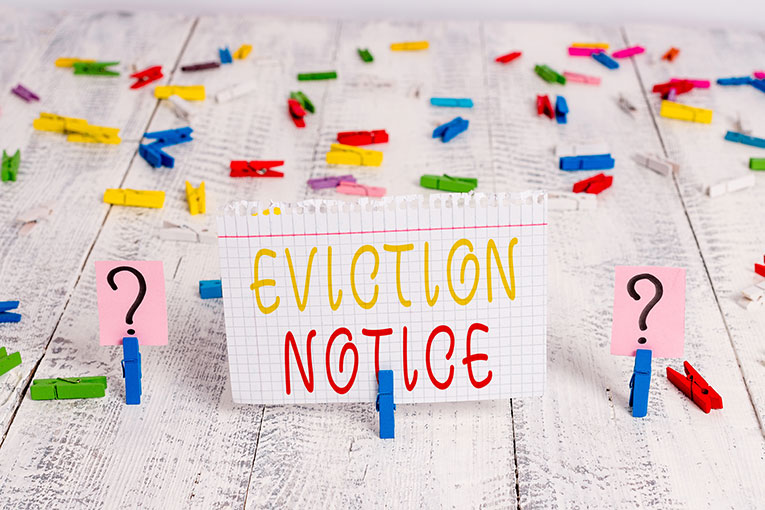 Here is what you will need to know:
Section 21 Notice To Quit (Tenant Eviction Letter)
A Section 21 Notice is used to regain possession of a property at the end of the tenancy. A standard Notice To Quit template is available from the government website.
You are required to give the tenants a minimum of 2 months warning when using a Section 21 notice.
If the tenancy began after 1st October 2015, you also need to complete Form 6A (No-Fault Possession Notice AST).
Section 8 Notice for Tenant Eviction
If you want to evict your tenants during the course of their tenancy, then you will need a Section 8 notice. This is often used when the rental contract has been breached.
This notice requires you to provide details of any agreement infringements made by the tenant. Specifically, The Housing Act 1988 lists the 17 reasons you can cite for evicting a tenant. When using a Section 8 notice, you need to use one of these explanations for your form to be legal and correct.
Delivering Your Notice
Whether you are issuing a Section 21 or Section 8 notice, another critical point is that you will need to serve the form lawfully. There are several options for doing this.
You can:
Hand the notice to the tenant in person.
Attend the property with a witness and deliver the notice through the letterbox before 5 pm. The courts will consider this notice as being 'officially' delivered the next day.
Employ the assistance of a professional server. They will be able to provide you with a legal certificate as proof of delivery.
What If The Tenant Refuses To Leave?
You will need to wait for the expiration date of your Section 21 or Section 8 notice. If your tenant has refused to vacate the property after this date, then you will need to submit a possession order.
You can apply for a possession order online or use a hardcopy paper form. However, the options available to you will depend on your reason for tenant eviction.
If your tenant owes outstanding rent, then a standard possession claim form is available online. The current fee for this online service is £325, and progress is trackable via the website.
In some instances, you cannot apply for a standard possession application electronically. Examples include trespass on your property or a breach of the lease. You will, therefore, need to print and return the form. This can be delivered to any local court dealing with housing possession orders. Any paper application will cost £355.
Accelerated Possession for Tenant Eviction
When a landlord is evicting a tenant for reasons other than rent arrears, an accelerated possession order can be used. As the name suggests, it can be a quicker process than standard possession orders and does not require a court hearing, making it more appealing.
If your tenants have failed to vacate the property by the given date in your Section 21 notice, then you will need to make an application for accelerated possession.
If you also intend to claim rent arrears, you may also be able to use an accelerated possession order. Under these circumstances, you will be required to make a separate court claim for these losses.  
The accelerated possession forms are available for download here. You will need to use the relevant form depending on whether you are applying in England or Wales.
Once you have submitted your forms to your local court authority, you will have to wait 14 days. During this time, your tenants will receive copies of the order along with a two-week period to respond. In lieu of a dispute from the tenants, a judge will issue a possession order. This can often be done without the need for any court attendance.
It must be remembered that if your form contains errors or the tenants do raise a counterclaim, then a court hearing may be necessary.
Find Experienced & Compassionate Solicitors!
Excluded Occupiers
An excluded occupier is a tenant who lives in the same residence as the landlord. This can often involve using a communal kitchen, bathroom, or having shared areas.
In these instances, the process of lawful eviction differs, and you will not be required to attend court.
For cases involving excluded occupiers, you can simply provide 'reasonable notice' to the tenant. You can do this either verbally or in writing.
Reasonable notice is deemed to be the same length as that of each rental period. For example, if the rent is paid in four-week cycles, then you should provide four weeks' notice.
If the tenant has not left when the notice expires, you are legally entitled to change the locks.
Takeaway
As with all cases of eviction, it can be a daunting process, and these simple steps should guide you through the procedure more easily.
Of course, if you are in doubt, you should contact a landlord and tenant solicitor for professional advice.
Do you need a Lawyer?
Find Solicitors, Lawyers and Law Firms in the UK with Qredible
Find a Lawyer near me