Employment Law is a wide-ranging term covering all parts of employment. It includes everything from recruitment practices, contracts, discrimination, as well as unfair dismissal.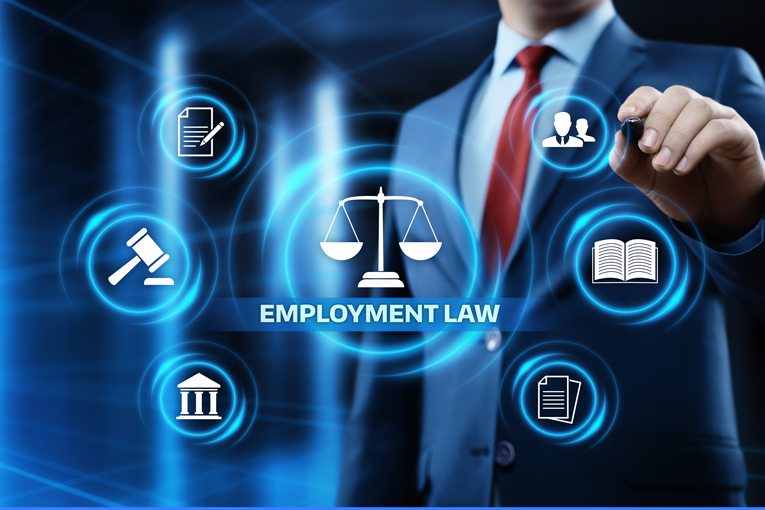 Why do we have Employment Law?
Employment Law serves as a regulator between an employee and a business. In complying with legislation, it ensures that individual staff members and their employers are fair in all aspects of their workplace and any hiring or dismissal processes. It also tackles discrimination, promoting equality in the workplace.
A Rundown of what it covers
Employment law covers many aspects of the workplace. Here are just some aspects that it covers:
Age discrimination

Disability

Race, religion, gender, or sexual discrimination

Equal Pay

Working hours

Minimum wage
We will look at some of these aspects in more detail below and explain why each aspect of Employment Law is both necessary and essential.
Recruitment
Employment Law is vital in recruitment as it means employers cannot be prejudice (either consciously or unconsciously) in making any decisions. Employers must focus on the job requirements and keep records as evidence as to why a candidate was selected over another. Applicants can view any notes made and so it protects candidates from unlawful discrimination.
Contracts
An employment contract exists once a candidate accepts a job offer even if the offer is verbal. At the interview stage, employers must be careful that a job has not yet been offered. Once a job is offered, the employer must explain that there are terms and conditions which will be provided formally. Contracts may still be subject to conditions such as a candidate providing evidence and references. The contract can be subsequently voided if these conditions are not met.
An employer must give written terms and conditions to a new employee on or before their first day of employment. They must include information regarding working hours, pay, job title and description, holiday entitlement, and the location of work. It is good practice for employers to add in a statement that they can change the job description, for example.
This part of Employment Law protects employers from hiring candidates based on a lack of information and suitable references which could harm their business in the future. It also protects candidates from receiving a verbal job offer which then does not materialise into a formal, written offer of employment.
Hours, and Leave
As is specified by law, all employers must comply with statutory requirements for working hours, holiday and leave entitlement. Regarding working hours and leave, there are several confinements to the law:
For most professions, employees cannot work for more than 48 hours on average each week. However, employees can agree to disapply this rule, which must be done in writing.

Employers can discuss and subsequently agree on an annualised hours system so that the total hours do not exceed 48 hours a week on average across a whole year.

Travel time is now included in working hours for the first and last client of a day for those who do not have a fixed workplace.

Employers must follow the regulations on breaks and rest periods.

Each employee should have at least 5.6 weeks of paid leave each year.

Employees are entitled to maternity, paternity, adoption, shared parental and unpaid parental leave as per the statutory guidelines.

If an employee has a minimum of 26 weeks' service, they can request flexible working.

Part-time employees must not be treated less favourably than those working full-time hours. Holidays are on a pro-rata basis.
Pay
Employment Law protects against employers paying below a minimum wage, now called the National Living Wage. From April 2020, this wage is £8.72 per hour if over the age of 25. The National Minimum Wage is:
£8.20 per hour for ages 21 to 23

£6.45 per hour for ages 18 to 20

£4.55 per hour for ages 16 and 17.

£4.15 per hour for apprentices under 19, or those in the first year of an apprenticeship.
An employee in the service industry should not have tips, gratuities, service or cover charges included as part of their minimum wage. The above minimum payments are to protect employees from unfair pay from employers, and it is against Employment Law for employers to breach or attempt to breach this.
By law, employers must use PAYE for National Insurance (NI) contributions and tax purposes. This ensures that all employees are paying tax and NI contributions on their earnings at the appropriate level. Additionally, workers must be given information on their pay and contributions in a payslip.
An Employee's Rights
Employment Law is there to protect both the employer and the employee. Both must behave responsibly and honestly, with the employer acting with care and due diligence. Working environments must be safe, secure, and healthy. Employees also have the right to join a union.
Although employers can monitor emails, calls, and internet use, employees can expect a degree of privacy.
Employees also have the right to whistleblow on any wrongdoings by their employer. If there is a subsequent dismissal, they can also sue for compensation for losses. There is not a limit as to how much this could be. This part of Employment Law ensures that employees are protected if they blow the whistle.
Discrimination
Employers are subject to strict discrimination rules. Unfavourable treatment is forbidden if this is regarding:
colour, race, ethnic origin, or nationality

sexual orientation

sex

gender reassignment

disability

age

philosophical beliefs or religion

marital status

maternity, pregnancy, or responsibilities as a parent
Indirect discrimination can also be an issue. This means that, for example, irregular shift patterns are brought in that may be difficult for those with caring or parental responsibilities.  
Victimisation should not occur if someone claims discrimination. This could include not promoting someone if they have made a previous claim of discrimination.
Regarding those with disabilities, an employer should make any necessary reasonable adjustments. Employers must try to remove any barriers, both non-physical and physical.
Illness
Employment Law is very clear on the payment of Statutory Sick Pay (SSP) for those who qualify. This is for all employees, whether agency staff, casual workers, full-time or part-time. SSP for 2020-2021 is £95.85 per week and can be paid for 28 weeks. It can begin from the fourth day since the illness started. There is a lower earnings limit; employees must earn at least £120 per week to qualify.
Grievances 
Employers must have procedures to deal with disciplinary issues and be aware of rules regarding dismissal.
Maternity and Paternity
As is enshrined in law, employers must follow the rules regarding maternity leave entitlement and pay. Every mother can have 26 weeks' maternity leave followed by a further 26 weeks should they wish. There are also rules regarding pay for this. Fathers also qualify for leave, and later, leave can be shared between the parents. Employers are legally obliged to consider flexible working requests if an employee has at least 26 weeks' employment.
Why do such laws exist?
Essentially, Employment Law protects employees against any form of unfair or unlawful treatment against an employer, as outlined in the sections above, whether it is during the recruitment process or once employed. Without such protections, employees risk unfair treatment, and employers risk tribunals for not complying. Laws serve as protection to all, and Employment Law is no different.
Of course, we must clarify that Employment Law changes rapidly and is complex. All aspects are subject to change.
Final Thoughts
Whether you are an employer or the employee, no matter what workplace or employment issues you're facing, you need an experienced employment solicitor on your side. They can help with any issue from Settlement Agreements, Unfair Dismissal, Redundancy and many more.
Further Guidance
For help, there is guidance in the following places:
Do you need a Lawyer?
Find Solicitors, Lawyers and Law Firms in the UK with Qredible
Find a Lawyer near me